The Jazz Gang

It was serendipity that brought this gang of experienced jazz musicians together; they began a residency almost as soon as they met.
Members of the group have played at jazz clubs, conventions and festivals in Victoria and interstate, as well as private gigs.
With combined backgrounds in trad, mainstream, swing, street bands, world music and jazz cabaret, this is an adaptable band for all occasions. The Jazz Gang is: Brett Willis, reeds; Jaz Stutley, vocals; Dan Charbon: guitar, banjo; Adrian Stanway, tuba; Tony Sloan, keyboard; Bill Thomson, drums.
---
Cheap Frills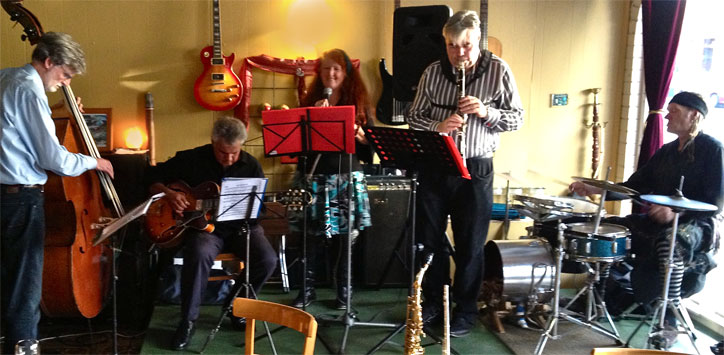 Five experienced musos: Jaz Stutley (vocals), Brett Willis (reeds), Rod Evans (bass), Brian Paulusz (guitar) and Bill Thomson (drums), formed Cheap Frills in September 2013. Soon after they began a residency at Farouk's Olive, a music venue in Thornbury, Melbourne, where they play every third Sunday in the month.

They also have played at Australian Jazz Conventions, the Grampians Jazz Festival in Hall's Gap, and Castlemaine Jazz Festivals 2014 and 2015. They will be appearing at the 70th Australian Jazz Convention in Ballarat, 26th December 2015 – 1st January 2016.

The members of Cheap Frills have diverse musical backgrounds and the band has a wide repertoire.

For more information and contact: use the Contact Jaz form on this website, or go to: https://www.facebook.com/CheapFrillsJazzBand
---
Dandenong Ranges Hot Jazz Orchestra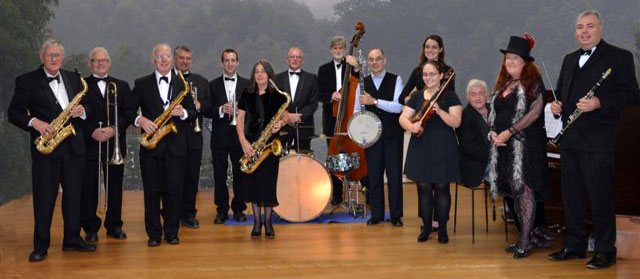 Members of the Orchestra heard me sing at the Grampians Jazz Festival 2013, held at Hall's Gap annually, and invited me to join their group as a vocalist.

They play popular music from the 1920s, based on original arrangements and inspired by Paul Whiteman, Jean Goldkette, Ted Lewis and Melbourne's own Green Mill Orchestra.
DRHJO have played many gigs including jazz festivals at Inverloch, Hall's Gap and Castlemaine 2014 & 2015; Australian Jazz Conventions, Emerald PAVE, and the Bells of Peace for the World War 1 commemorations, April 2015.

For more information and contact: use the Contact Jaz form on this website, or go to: https://www.facebook.com/DRHJO
---
Here We Go Again!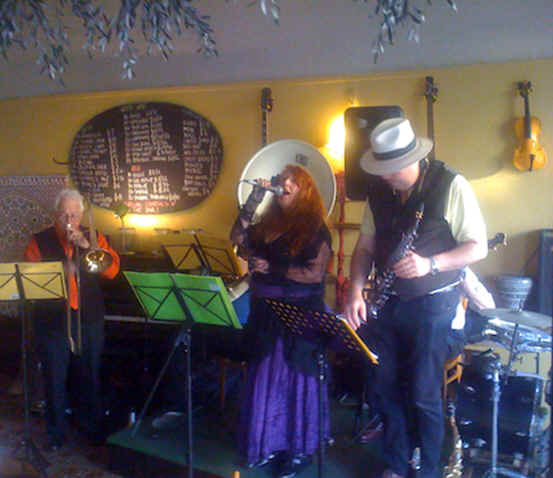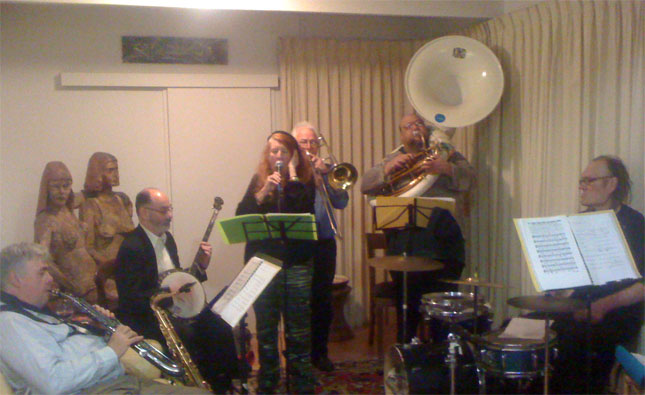 The band Here We Go Again! comprises six experienced musicians, performing a wide range of traditional jazz and standard tunes with enthusiasm and humour. Their repertoire is appreciated by anyone who enjoys good music with nostalgic tunes and lyrics: songs composed by Fats Waller, Cole Porter, Walter Donaldson, De Sylva, Brown and Henderson, and many others. The band has performed gigs including Castlemaine Jazz festivals 2014 & 2015, and the Darebin Feast.

For more information and contact: use the Contact Jaz form on this website.
---
Frilly Knickers Jazz Band

Frilly Knickers started as an all-female jazz band many years ago, but its current incarnation began in 2007.

The Frilly Knickers Jazz Band has performed at numerous festivals including Barham Jazz Festivals, Grampians Jazz Festivals; Merimbula Jazz Festivals; Australian Jazz Conventions and jazz clubs; also for the Darebin Music Feast and at the Astor Theatre, East St. Kilda for Friends of the Astor.

The gals have backgrounds in trad and big band jazz, cabaret, and brass band; entertaining with authentic jazz, a sense of fun, and great rhythms for dancing!
---
Reds under the Bed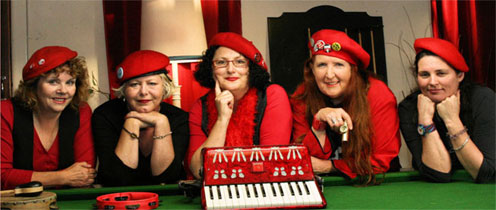 Reds Under the Bed was formed in 2005 and performed shows for the 2006 and 2007 Melbourne Fringe Festivals, and for the Darebin Music Feast, 2007. The CD "Reds on Fire" was launched at Don't Tell Tom (now The Penny Black) a live music venue on Sydney Road Brunswick, on Friday February 22nd 2008.
---
The Red Hot Mommas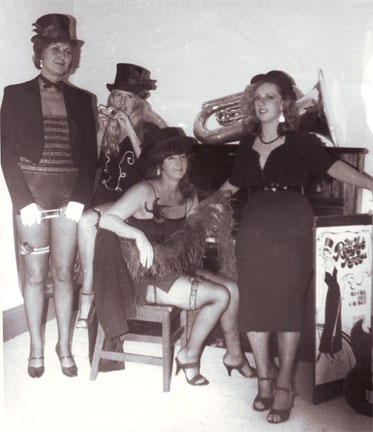 The Red Hot Mommas jazz cabaret began in the 70's and continued into the 90's. We sang a mixure of early jazz, song parodies (often with a political bent), original songs, and musical comedy. The premise was based upon performers such as Mae West and Sophie Tucker (the original Red Hot Momma) and songs were raunchy and comedic.
---